Gachapin is a character from ☀Hirake! Ponkikki that guest stars in eightmarbles ura.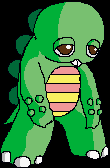 he is a very popular Japanese children show character.
Trivia
He is the oldest character in all of the games. (1000005 years)
His second color palette could possibly be based on the colors as his friend mukku. (red and yellow)
Mukku, which Gachapin is usually seen with is strangely absent.